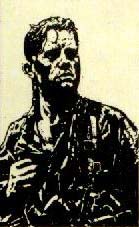 Barcelona is second in command to the Old Un. He has a glass eye according to Assignment Gestapo's list of disfigurements in the section.

He fought in the Spanish Civil War in the Thälman Battalion of Communist volunteers. He is married, with children, but receives divorce papers from his wife in Chapter 6 of Liquidate Paris.

"He wanted to go to Spain and grow oranges when the war was over. He was constantly talking about the orange grove. Though he never got to Spain, he had learned a few words of Spanish. He had an ancient dictionary with a great many pages missing. 'Dos cervezas,' he would say when he ordered beer, regardless whether he wanted ten or two. He also knew how to say 'mañana' and 'hermana'. He used to say this to all the girls. To old people he said 'abuelos'. The day he died - the Siberian sniper hadn't hit him quite right, just above the root of the nose, and it took him three minutes to die - he said to those standing by: 'Yo no me figuraba'. The little Legionnaire, who knew Spanish, nodded and answered in Spanish. It cheered Blom greatly. He died with his mind on the orange grove he never got to see. They buried him down by the crooked cactus, where the fallen rock was lying. They buried a tiny dry orange with him in the grave. The Legionnaire squeezed it into his hand. Afterward they trampled the earth very firm. They jumped up and down on it, to make sure the wild dogs wouldn't dig him up and feed on him. They did this only because he was 'Barcelona-Blom'."