The following biography of Sven Hassel is pieced together from several official sources - book covers, the brochure for the film of 'Wheels Of Terror', interviews and a press release kindly supplied by Sven's son, Michael.
Sven Hassel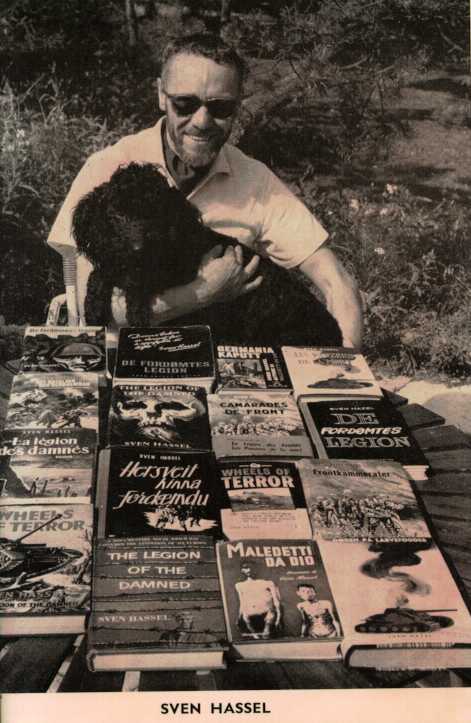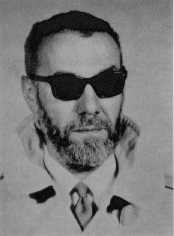 Sven Pedersen was born on April 19th 1917 to a typical Danish working-class family in Frederiksborg, Denmark. The son of Peder Oluf and Hansigne Pedersen, he later took his mother's maiden name - Hassel - as his own surname.

In 1931, at the age of fourteen, Sven Hassel joined the merchant navy as a cabin boy. He served for five years before doing his Danish military service in 1936.

In 1937 he sold his belongings, including his favourite books - Erich Maria Remarque's 'All Quiet On The Western Front' and 'The Time That Followed' - to pay for a passport. "I had only one wish: to join an army. There were no opportunities in Denmark, which was hit by unemployment at that time.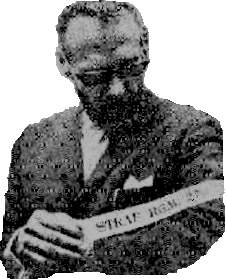 I had already tried to volunteer for the Hussars, but with my working-class background I stood no chance of being selected for officer training." He bought a railway platform ticket and set off for Germany as a stowaway. "Germany happened to be closer than England. I went to a Wehrmacht recruiting office to enlist, but it wasn't as easy as I had thought. Only German citizens could serve. After six months of trying I was finally accepted by the 7th Cavalry Regiment, on the condition that I became a naturalized German." After another six months confined to the barracks at Breslau, Hassel was finally enlisted and sent to the 2nd Panzers at Eisenach.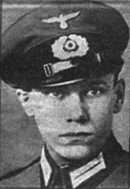 "Nobody believed there would be a war. We were all aware of the rearmament, but we thought it was a kind of guarantee that this madness would never happen." In 1939, Hassel and the Wehrmacht marched into Poland.

A year later he attempted to escape. "I have seen men go into combat with a lust for adventure. Generally, it took them fifteen minutes to lose that desire. War is no picnic, and after a year I was quite simply exhausted. I did not return to my unit after a short leave.

Desertion they called it. I was transferred to a sonderabteilung, a penal unit manned by criminals and dissidents." From then on it was just a question of survival. "We were always given the most dangerous missions - we were not supposed to get out of them alive. Fighting the way we did made us human rats, only the instinct of self-preservation kept us going. That's the reason why poverty creates the best soldiers; poor men have to fight just to exist." Penal battalion soldiers had to qualify for the Iron Cross five times to receive it once.

Hassel was wounded seven times during his war service. He was awarded the Iron Cross, 1st and 2nd class, plus a number of other medals which he never carries - Gold Medal, Italian Military Cross. He is only ever seen with the Finnish Commander Of The Mannerheim Order.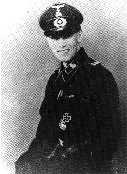 He served in the 2nd Cavalry Regiment as well as in the 11th and 27th Panzer Regiments. After the first Eastern campaign he was sent to Finland as a so-called German volunteer but he spent most of his time in Russia. By the end of the war Hassel had fought on all fronts except North Africa and had reached the rank of Lieutenant.

After being captured by the Russians at Berlin's Tiergarten, Hassel spent four years, between 1945 and 1949, as a prisoner of war in Russian, American, French and Danish prison camps.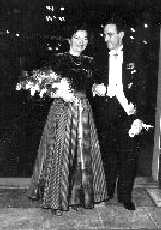 After being released he was on his way to join the French Foreign Legion when he met his future wife Dorthe Jensen. She made him change his mind and he managed to find work in the automobile industry in Denmark. He married Dorthe on January 6 1951 and they have one son named Michael, born in 1952.

During his time in the prison camps he had started to write on any scraps of paper he could find. Dorthe encouraged him to collect the notes for a book and, in 1953, the fourteenth publishing house he went to finally accepted the manuscript for 'De Fordometes Legion' ['The Legion Of The Damned'].

In 1957, Sven Hassel was attacked by Caucasian fever, a sickness caught in the war, causing total paralysis. He was not cured till 1959. During this time, he received a letter from his English publisher saying, "Don't stop writing". Two more books were published - 'Wheels Of Terror' and 'Comrades Of War' - and he soon became internationally popular.

Since that time, the full set of fourteen novels has been translated into 18 languages and published in more than 50 countries. They have sold more than 8 million copies is Great Britain alone and more than 50 million copies world-wide. A fifteenth novel is in progress, probably called 'The Glorious Defeat' - covering the 1944 assassination attempt on Hitler.

In 1964 Sven Hassel moved to Barcelona, Spain where he still lives and writes.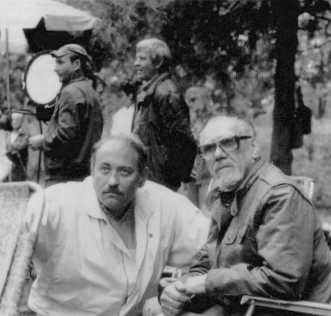 His books are currently out-of-print in many parts of the world - though they top the bestseller list in Finland at the moment. Negotiations are currently under way for a new publishing deal and it will certainly be interesting to see the 1990's response to such a brutally honest and wickedly funny series of stories.

Please note:- The version of the Sven Hassel story told by Erik Haaest is firmly denied by Sven Hassel and his family. That particular story can be found elsewhere on the Web by anyone who feels the need to read it.

Dan Smith
dang65@yahoo.com
July 1998